About Us
Skypack India Pvt. Ltd. And its two sister concerns Skyflex Packs Pvt Ltd and Skyroto Print Pvt Ltd. are in the business of providing flexible packaging material to Pharmaceutical and food industry. An exporter of films to European countries, Skypack India Pvt. Ltd. has expertise to manufacture films and tubes for a variety of applications. The infrastructure and capability is to provide a hygienic processing environment for manufacturing packaging for steralizable surgical instruments, Pharma tubes and food grade products.
Skypack India Pvt. Ltd. was started by Mr. Naresh Kumar, who has been in the plastic packaging business since 1973. Plastic was a new concept in India at that time. He started his career with the sole objective of supplying injection molded rigid packaging material. Our first few clients were Dabur, Hammer Master and Hindustan Syringes Ltd.
Soon, he diversified into the field of flexible packaging. Today, Skypack is the sole supplier of packaging material to Hindustan Syringes & Medical Devices Ltd. (HMD) and is also supplying to companies like Nestle, Reliance Retail etc . Skypack can boast of a team which keeps quality and precision as its ultimate goal.
Our Machines And Infrastructure
Converting – Printing, Lamination & Coating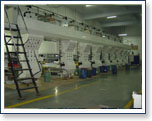 6, 8 and 9 Colour EXPERT ELS Rotogravure Printing Machine
Capable of printing a variety of substrates including, PET, BOPP, Paper, LDPE etc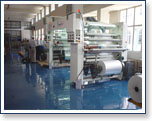 Nordmeccanica Solventless Lamination Machines.
Capable of producing world class
Solvent Based Lamination Machines
Capable of producing state of the art laminates for a variety of applications
One 4 Station Inline Coating Machine
Slitters
Pouching Machine
Centre seal and 3 side seal pouching machines are capable of making a variety of pouches including the Standy, Zipper, etc
EXTRUSION – Blown, Cast and Coating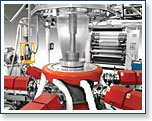 3 & 5 Layer layer Coextruded Blown Film Plant
Our brand new state of the art, fully automatic 5 layer blown film line is camaple of making 5 layer films of nylon and EVOH. Our three layer blown film line manufactured under Licence from M/s Kuhne GmbH of Germany can make films upto 1550 mm.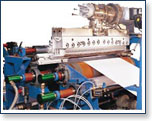 Extrusion Coating/Lamination Plant
This is a versatile extrusion coating/lamination plant capable of extrusion coating a variety of polymers like LDPE, EVA etc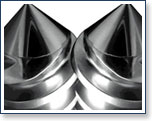 3 layer Cast Sheet Plant
This state of the art fully automatic 3 layer cast sheet cast sheet plant is capable of producing a variety of sheets including APET, CPET, APET/PETG, PP, PP/PE, PS, HDPE etc in a wide thickness range.
Lami Tube & Labels – Printing and Tubing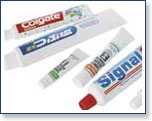 Swiss Tubing Machine
The state of the art Swiss technology of making collapsible tubes for applications like ointments, cosmetics, Toothpastes etc. The sizes possible are 16, 19, 22, 28, 35 dia with conical and Standy caps
Japanese Printing Machine
The precise 6+ 1 Japanese UV based printing machine is capable of printing tube laminates and the label stock in widths of upto 250 mm

ISO 9001:2008 Certified Company